Last chance to register with the 2021 fees to the new expanded PG Clinical Research Certification and Onboarding Program CRP3.0. The 45% discount is still valid till midnight Jan. 31, 2022.
In February, the fees will be adjusted for the yearly inflation rate. Don't miss the opportunity.
Placement Assistance Till Hired (PATH) and 3 remote internships in Data management, EDC/CTMS software and clinical trials monitoring activities in Canadian and US regulatory environment are included.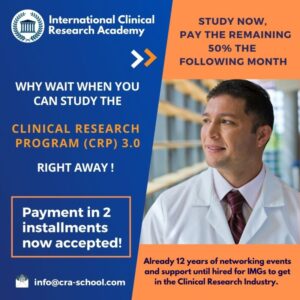 In the new economic situation, fees may need to be updated frequently, so better start earlier.
Payment in one or two monthly installments is accepted. Select the option that better fits your needs.
The vaccine trials require 10 times more subjects and plenty of new staff. The best time to jump ship. There have never been so many new jobs in this rewarding industry.

To enroll, click here